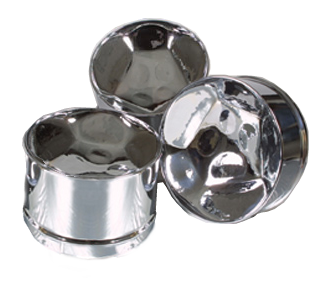 Triple Guitar 24.5" Rigid Rim
Our Rigid Rim 24.5RR Triple Guitar employs all of our "best practices". The highly refined shape and geometry allows for the proper alignment of the fundamental, first octave, second octave, and harmonic of every note providing a clear vibrant tone with excellent power and projection. Each instrument is built with much thicker metal than other builders use. After the pans are physically constructed, every note is ground down to very specific tolerances. We shoot for a variance of 5/10,000 of an inch. The exacting tolerances we use in our world class instruments have many benefits.
Click Here: To learn the benefits of thicker note panels & larger diameter Pans
These instruments are highly durable and will have a much longer life span verses traditional Steel Pans. Not only is there more mass in the note panels but the interstitial is much thicker as well. This non-note area of the drum face functions as the frame that supports the notes. The welded construction of the drum makes for a very rigid platform. Because it is more rigid, proper stability is achieved and this helps the notes to speak. The larger diameter (24.5") gives us more space between notes, which leads to a very clean sounding pan. These factors combine to help the pans stay in tune extremely well. We find that after a few tune ups our Guitars rarely drift out of tune.

Not only do our Guitars sound fabulous but they also have a large dynamic range. They respond well to light playing yet are capable of a tremendous volume. Our 24.5" Rigid Rim is by far the best sounding Guitar pan made in the world today.
Click Here: To learn why these changes were necessary.