We are currently offering three different sized Double Seconds and ranges. Choose the one that fits your budget and performance needs. All three are built using the same basic techniques and geometry.
Performance Series 23.25"
This versatile instrument offers superior craftsmanship with pure, focused, vibrant tone that is both aurally and visually exciting. With 34 notes, our F# Double Second has one of the largest ranges available. Our F# Double Second (23.25") is constructed from a custom built barrel. We use 1.4 mm steel where every other builder uses 1.1 mm steel. That .3mm difference makes a huge difference in the quality of the finished product. Thicker steel increases the projection power of the note panels. We put four small bore holes around each note to give the pitches a longer sustain rate and an increased usable dynamic range. 23.25" pans fit nicely into a traditional sized case and stand.
Click Here: To learn why these changes were necessary.
Performance Series 24.5"
With the largest range available on a 24.5RR Double Second, our Rigid Rim pan is like no other. Proper construction and geometry allows our Half Bore Double Seconds to remain focused even during the most forceful playing. Its strong presence is evident in the increased volume, sharp cutting attack, and longer sustain rate. They can be played with a very light touch and the notes will clearly respond or they can be played aggressively when more projection is called for. The strong bright sound and increased dynamic range is achieved due to the fundamental, first, and second octave being properly aligned on each note panel.
Click Here: To learn the benefits of thicker note panels & larger diameter Pans
Artist Series 26.0"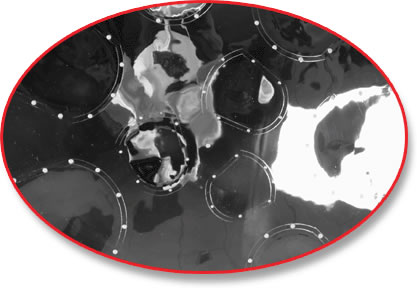 Largest range available on a 26.0" DS
Our Rigid Rim Double Second is known for its warm resonant tones and focused sound. With a full three octave range, the 26.0RR Artist Series Double has a strong, even presence throughout its entire range. Whether the notes are played light or struck hard the pitch remains true. Most pan makers can't make that claim. The larger surface allows us to maximize the interstitial metal around each note panel. It also enables us to make each pitch its optimum size. This in turn allows us to properly align the fundamental, first, and second octave on each note. With it's harmonious blend of power, projection, articulation, and attack, nothing sounds or feels like our 26.0"RR Double Second!